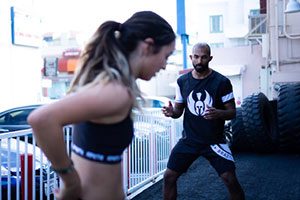 At Sparta Academy in Los Angeles, California, we can help you train through or around your sports injury. If you've ever committed substantial time and energy to a lifestyle of fitness and wellness, it can be discouraging to discover that you've fallen prey to injury. After all, you don't want to undo all of that hard work.
Our experienced trainers will assist you in continuing to exercise safely after an injury. You can lose weight, get toned, or continue to achieve other personal fitness goals.
Don't Lose Or Stall Your Progress
Great news. You don't have to. Studies have shown that you can not only maintain your current fitness base but continue to progress with a sports injury. It's important to remember that you clear any fitness training through either your physician or physical therapist.
After health clearance, our qualified personal trainers can help you work out safely. A Sparta Academy personal trainer will help you keep the injured portions of your body stabilized, as well as making sure you are in the right headspace to carry on with your fitness goals without further injuring yourself. A positive, healthy attitude is just as important as proper training and form.
What's a Sports Injury?
A sports injury can refer to any trauma that is sustained while exercising, participating in a sport, or other intense physical activity. They are more common than you might think. Nearly 9 million sports injuries are reported annually.
Common Sports Injuries:
Tennis Or Golf Elbow
Hamstring Injury
Sciatica
Shin Splints
Groin Pull
Concussion
ACL Tear Or Strain
Hip Flexor Strain
Shoulder Injury
Runner's Knee
The Professional Advantage
Whether your trainer recommends low impact exercises, weight training or cardio will be dependent on your overall physical health, the grade and location of your injury, your goals, and your restrictions. You want a personal trainer that understands what you want out of your sessions, but has your best interest and your health in mind, too.
Don't risk permanent injury in the drive to continue your normal routine. Many athletes have exacerbated their injuries by simply trying to "push through the pain" rather than seeking the help of a professional. Our trainers can set safe exercise boundaries for you, so you can proceed with confidence.
Sports Injury Training In LA
If you find yourself struggling with a sports injury that threatens to stall your progress, Sparta Academy in West LA has a well-rounded variety of personal trainers to choose from. You are certain to find one that will meet all of your training needs while you recover. You shouldn't have to struggle through a sports injury alone, and with your Sparta Academy trainer, you won't have to. Stop by or contact us today to get started.