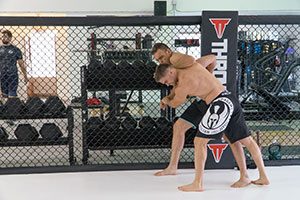 Mixed Martial Arts, or MMA, is all the rage and at Sparta Academy in Los Angeles, we can teach you how to train to be an MMA fighter. While MMA's popularity as "the sport to watch" has increased, so has interest in learning to fight. We can help you set out on the right path.
Have A Plan, We Can Help
What martial art will be your first focus? Will you join an MMA gym? Will you take MMA classes? Before you begin, you should think about the pros and cons of each path. Factor in your time, budget, and how soon you want to be ready to fight.
Do you have professional aspirations? If so, private MMA training may be the way to go. Here are some of our favorite get started tips:
Train For Performance
Add Plyometrics
Increase Endurance
Learn Grappling
Eat A Training Diet
Hire A Trainer
Mind Over Matter
The first real step to beginning MMA training is to overcome your own mind. In military boot camps, one of the first things the drill instructor yells at recruits is that all of the training and pain is just a mind game to overcome.
If you strengthen your mind to face the challenges you will meet in training and on the mat, you can accomplish anything. Your trainer can help you get in the right mindset.
Build Endurance
The next step in MMA conditioning is to increase your overall endurance for more intense training in the future. Your cardiovascular health needs to be excellent. You might start by running and increasing the distance until you can easily tackle two daily miles.
If that sounds like a waste of time, it isn't. The strength to keep going is a primary component to winning a fight. Our classes are a great way to complement your conditioning efforts.
Benefits Of An MMA Personal Trainer
You may not think you need to hire a personal trainer, but if you are serious about your goals, it's a given. An MMA trainer already knows the ins and outs of the sport, has been refining their knowledge and experience for years and will use that experience to create a plan for you. Each fighter has a unique set of natural talents and skills, and someone with experience can help to best develop those.
Train To Be An MMA Fighter In Los Angeles
Contact us at Sparta Academy to find a personal trainer in Los Angeles who can help you achieve your MMA fighter goals. It can be challenging to know where to start as a beginner in the sport. With unique classes and the best equipment and facility at your disposal, we can get you started on the right path.