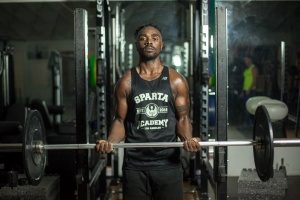 If you live in Los Angeles and want some great tips for body toning and trimming, the fitness experts at Sparta Academy have you covered. Our personal trainers help clients achieve amazing results with targeted workouts. Let us show you how to firm up your body.
Tips For Toning At Home
The right amount and types of exercise are essential for a toned and trim body. However, you don't want bad habits to sabotage all the effort you put in at the gym. Here are some simple things you can do to make sure your results stick.
Sleep For Fat Loss?
First, aim for seven hours of sleep every night. Exhaustion tricks the body into storing more fat than it needs. Getting plenty of rest will keep this fat from forming. As you burn through the fat you already have, you'll become leaner.
What To Eat To Get Lean
Second, adjust your diet, so it's high in protein and low in carbs. Have a small portion of healthy carbs in the morning and spread your protein throughout the day.
Last, drink green tea or black coffee before your workout. The caffeine will give you an extra jolt of energy and help improve your overall performance. After the workout, make a point to eat some protein and another small portion of carbs.
Body Toning Tips For The Gym
When you're ready to hit the gym, you want to make sure you're using your time and energy wisely. At Sparta Academy, we can help you work smarter, not harder. Here are a few gym routine tips for body toning and trimming.
Shred body fat by doing aerobic exercises on an empty stomach.
Do strength training that focuses on low weight and high reps.
Take advantage of monkey bars to trim your arms and shoulders.
Sit on an exercise ball to strengthen your core and improve balance.
For slimmer hips and thighs, do step exercises and leg raises.
Wear a resistance band to get more out of each workout.
Hire a personal trainer for personalized tips from Sparta Academy.
Equipment Built To Tone & Trim
Run, jog, or walk briskly. Channel your inner child and really climb. At our cutting-edge gym, we provide the best equipment designed to tone legs, arms, and the rest of your body. Our personal trainers can guide you through the perfect routine to achieve your goals.
See Results With The Right Programs
Our strength training program is excellent for building muscle. You'll also get aerobic benefits from our speed and agility training as well as improved flexibility and balance. The possibilities for improvement are endless.
Improve Faster With A Personalized Plan
When you sign up for personal training for toning and trimming, we will pair you with one of our experienced trainers who will develop a fitness plan based on your specific needs and goals.
Training For A Toned, Trim You In LA
One of our LA trainers would love to help you get the body you're hoping for. Contact us today to schedule your first appointment. Or, stop by Sparta Academy and chat with our staff to learn more about us and what we offer.