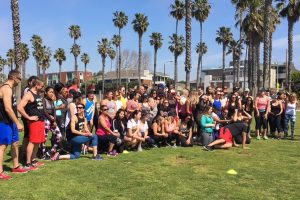 Sparta Academy in West Los Angeles offers team building activities and seminars for companies and groups in a unique way: through group fitness. We offer comprehensive courses and seminars for groups of all sizes focusing on self-defense and an array of fitness techniques. From multi-million dollar corporations doing team-building exercises to Girls Scouts learning how to protect themselves, or Khloe Kardashian helping her fans work on their revenge bodies; these courses are tailor-made to fit the group's specific needs. Our class length, location, and topics can be modified to accommodate the time frame, age range, size, and budget.
Team Building Activites
Self-defense based on Krav Maga, Jiu-Jitsu, and Kickboxing has been shown to improve employee discipline, morale and enhance teamwork. It can improve creative problem-solving skills and helps employees learn to think on their feet to overcome the obstacles to success. Sparta Academy can provide your team an opportunity to engage mentally and physically. Shake things up at your company and try new ways to incorporate group team building. Your team will thank you.
Physical Activity Increases Learning Abilities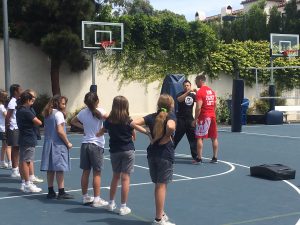 Many people groan when they find out they have to participate in a team building workshop, but it doesn't have to be that way. According to research, physical activity increases the brain's ability to learn and improves memory. Our brains benefit from increased blood flow, new neural connections, and increased brain matter when we get physically active. All of these benefits play a role in engaging the best results from your company team building activity – the benefits can linger in a smarter, more capable workforce. It's a win-win.
Have Fun Together
Building a culture of teamwork takes times and effort, as well as seeking creative opportunities to engage your employees. At Sparta Academy, we will create a group exercise that is best suited for your team and its unique needs. We offer a variety of classes that can be customized into your team building activities. Ultimately, group classes empower these individuals to be mentally, emotionally and physically healthy all at once. It also allows them to bond, make new friends, and have fun together! Our fitness seminars can include anything from:
Obstacle Courses
Quick Foot Ladders
Hurdles
Team Building Games
Group Fitness Seminars In West Los Angeles
Contact Sparta Academy for more information and to organize your next corporate event or group fitness seminar in West Los Angeles. If you're looking to break away from doing things the way they've always been done, start by breaking away from doing team building in the same old ways. We offer a fresh, new concept to the idea of combining team building with fitness. We know you won't be disappointed with the results.