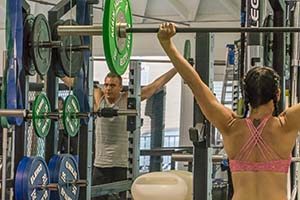 If you're looking for tips for staying active over the holidays, at Sparta Academy in Los Angeles, California we're here to help. The holidays are a festive, but busy time of shopping, celebrating, and often enjoying those holiday goodies a bit too much. However, with a few simple tips, it is possible to stay fit throughout the holiday season.
Set & Keep Fitness Goals
Setting a goal is perhaps the most obvious way to keep up a fitness routine during the holidays. Think about the results you want. Do you want to continue a training regimen for an upcoming race or competition? Are you looking to lose weight? Do you want a holiday workout that will allow you to eat grandma's famous pumpkin pie at Thanksgiving without guilt?
Whatever your desired results, write down your goals and the action steps needed to get there. The personal trainers at Sparta Academy can help you identify the action steps and routines you need to achieve the results you want. There's no better gift you could give yourself this holiday season.
Staying Active Takes Planning
Setting fitness goals is the easy part. Keeping up the routines that help you reach your goals might be another story, especially during the winter holidays. With a little planning, staying active over the holidays is doable, and can even be fun. Here are some ideas to help you stay motivated:
Find a workout buddy.
Instead of family holiday baking, get outside together.
Go mall walking or sightseeing and enjoy the festive atmosphere.
Try out a winter sport you've never done before.
When traveling, bundle up and see the sights on foot.
Join a new Sparta Academy workout class.
Join the kids and go sledding, have snowball fights, and make snow angels.
Sign up for a spring 10K or other competition.
World Class Fitness Gets You Results
At Sparta Academy, we have one of the best personal training facilities in Los Angeles. Not only do we have state-of-the-art equipment for all your training needs, but we also have a wide variety of classes for you to try. Our personal trainers are fitness experts that will help you stay motivated and on track even during the hectic holiday season. You don't have to do this alone.
Stay Fit This Holiday Season
Stay fit during the holidays with help from Sparta Academy in Los Angeles, California. You can browse through our class offerings online, schedule an appointment with one of our personal trainers, or visit our facility in person. We look forward to helping you reach your fitness goals.