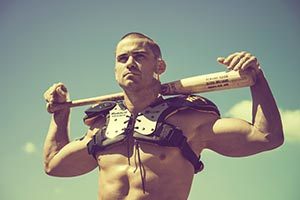 At Sparta Academy, we provide sports training and conditioning to athletes in the West Los Angeles area. Depending on what sport you are training for, it's imperative to your body's overall well-being to learn specific exercise techniques catered to the agility, speed, and power appropriate for the optimum performance of your particular sport of choice. If you are training for a new competition or trying to maintain during the off-season, it's essential to combine strength training and anaerobic exercise for the best results. Our fitness trainers have the knowledge and experience to get you in the best shape for your next big game.
Sports Training & Conditioning
Certain sports, such as baseball, can cause rotational movement imbalances in the muscles of an athlete due to repetitive motions. For this reason, it is important to incorporate exercise routines unrelated to the particular sport you play. Professional athletes who work with our personal trainers will benefit from the expertise, enthusiasm, and commitment to fitness they provide by creating a tailored regimen specific to each body's individual needs. It is important to keep your body in the best shape possible, even during the offseason. This will help prevent sports-related injuries and strains. Come train with us and find out why we're one of the top fitness locations in Los Angeles.
Sports Training Increases Endurance & Overall Health
Every sport demands a different kind of expertise when it comes to training. Basketball, for example, focuses less on long distance endurance and relies heavily on integrating strength with balanced sprinting and agility maneuvers. Other sports like football require different body builds for the various positions. Whether you're playing quarterback, offense, or defense, each position demands specific strengths. When proper sports conditioning is included in your routine, injuries are easier to prevent. Sports training can provide extensive physical benefits including:
Sports Injury Prevention
Skill-specific Preparedness
Technique Perfection
Muscle Imbalance Prevention
Mental Visualization Training
Contact Us Today
At Sparta Academy, our personal sports conditioning trainers have experience training, coaching, and competing in sports and athletic competitions. Whatever sport you play, let us help condition and train your body to play the game like a well-oiled machine.