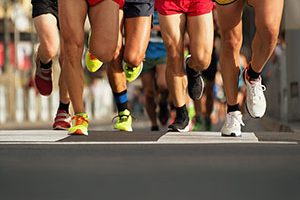 Reach your lifelong goals of participating in charity races, a decathlon, or any cross country running event with a personal running trainer at Sparta Academy in Los Angeles California. Many people decide they'd like to run in their communities local marathon or charity event for a variety of reasons.
Whatever type of sports affair you choose, the first step to sticking to your goal is to get a coach that can motivate you to the finish line.
Marathon & Charity Run Training
Perhaps you've always dreamed of a multi-versatile marathon like the summer season pentathlon, which involves feats like the discus throw, long jump, and wrestling. Or maybe you're a skier and looking to train for next winter's biathlon, which contains grueling long-distance cross-country skiing. The fitness experts at Sparta Academy can get you ready for any sporting event including:
Cross Country Running
3Ks, 5Ks, 10Ks & More
Triathlons
Heptathlons
Decathlons
A Running Coach For Success
One of the second most substantial reasons first-time athletes and those who consider themselves "non-sporty" decide to enter a marathon or charity run is because they know it's a great way to get into shape quickly. Of course, the #1 reason is that it feels good to give back to a non-profit organization and be part of a community event. But it takes a lot of work to build up your endurance for the big day, and that's why having a beginning marathon trainer like those at Sparta Academy can help you avoid the common pitfalls of training for a marathon.
Train For A Marathon With Sparta Academy
Charity runs, community events, and marathons attract athletes from all walks of life. No matter what type of running activity you've signed up for, the personal trainers at Sparta Academy in LA are here to help you on your way to a successful and fun first-time marathon experience. Having a marathon coach means you're less likely to have an injury before the big day and more likely to succeed with a smile on your face. Call or stop by to speak with one of our trainers today and let us know more about your goals.