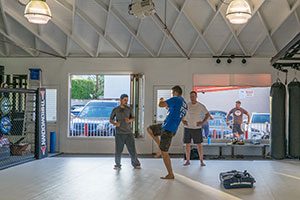 Sparta Academy in Los Angeles should be your number one choice when it's time to choose MMA personal training services. Whether you're ready to get started or take your game to the next level, our trainers are some of the best in the business.
We're committed to helping you win when you compete and achieve your personal best, again and again. Elevate your overall fitness, stamina, and mixed martial arts skills with us.

Benefits Of An MMA Trainer
When you want the best results from your training, it just makes sense to opt for private MMA lessons. Let us leverage our years of expertise to hone you into a lean, mean, fighting machine. Whether you use MMA for self-defense or you're in the middle of UFC training, we can help you achieve your goals. Just some of the benefits of an MMA personal trainer include:
Increased Strength & Flexibility
Faster, Targeted Results
Enhanced Motivation & Accountability
Professional Goal Setting
Personal Insight For Improvements
One-On-One Sparring With A Skilled Opponent
Boost Motivation & Set New Goals
It can be easy to slip into a rut when you are training on your own. A good MMA gym can offer everything you think you need, but there is nothing like the boost of inspiration you get from a trainer. When you have someone pushing you past your comfort zone day in and day out, you get results faster.
A personal trainer can spot issues with your form when striking or grappling, and give you that more competitive edge. An MMA trainer can also give you a more objective idea of which goals are right for you – something to strive for, but not something unattainable.
Get Ready For Competition
Serious MMA competitors enlist the services of a personal trainer. In the world of martial arts, the best competitors are driven by the best teachers. As you build your strength, skills, and endurance, your confidence will soar. When it comes down to the wire in competitions, confidence built on practice is often the winning advantage.
MMA Personal Training In Los Angeles
It's often said that you just have to "trust your training." So why not hire the best MMA trainers around? Sparta Academy has a golden reputation for a reason – we work the hardest to make you the best. Contact us today to learn more about your MMA personal training options in Los Angeles.