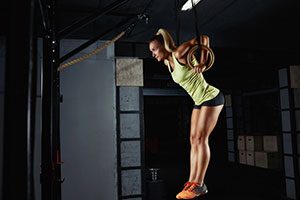 At Sparta Academy in Los Angeles, CA, we can help you take the guesswork out of maximizing athletic performance. If you feel like you've hit your athletic peak and are no longer progressing towards your goals or that you could you could use a boost in your stamina, endurance, or overall sports performance there are a few things you can try and even more ways that we can assist. Whether it's in the ring, on the track or on the field, we want to help you get results.
Training Tips For Athletic Improvement
Everybody has advice and it probably works for them. But right now we're talking about you. You want something more than promises from another supplement or diet company and for some reason no matter how you train or how hard you workout, what's worked before is falling short. Well, here are a few tips that can help with athletic agility, control, and balance over time:
Incorporate compound movements into your routine.
Add more explosive moves, like jumps, to your workout.
Lift for strength and speed instead of size.
Get and listen to a great personal trainer.
Challenge yourself with a fitness class.
Always stay hydrated.
Train with a partner.
Get enough sleep.
Success Starts On The Inside
In order to build muscle and recover efficiently, your body needs rest. If you can, try to squeeze in a 30-minute nap after your workout and never miss out on those nightly zzz's. You're working hard. So, don't sell yourself short by skimping out on nutrition. Make sure you're replacing all that sweat with hydration and then some and fueling your body with the right balance of carbs, proteins, and fats from clean sources.
Cross Training For Well Rounded Athletes
Tired of doing the same drills and circuits over and over? Cross training might be just what you're looking for to boost your athletic potential. Mixed martial arts, strength training, speed drills, and endurance training are all incorporated in our small client-focused classes. They are offered six days a week for your convenience.
Boost Your Athletic Performance In LA
If you're ready to switch things up and really get serious about maximizing athletic performance, the modern facility and elite trainer at Sparta Academy are here to help. You'll find the high-quality equipment you're used to along with modern additions you might not be. Stop by and see us in Los Angeles today and check out our indoor/outdoor obstacles, sparring cage, and cryotherapy ice pod. We give you the tools and advice you need to reach your fitness goals.