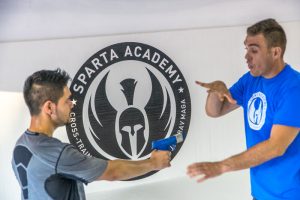 Krav Maga classes at Sparta Academy in West LA is an incredibly intense, practical workout – and it can prepare you for dangerous real-life situations. At our unique gym in Southern California, we push you to take self-defense, fitness, and working out to a new level. With a certified black belt Krav Maga instructor and an elite gym equipment, you won't find a better experience in all of Los Angeles.
If you are seeking individualized one-on-one training, hire one of our Krav Maga personal trainers.
What Is Krav Maga?
Krav Maga is a martial art and self-defense system developed for the military and defense forces in Israel and has since been honed and refined for realistic fight training for civilians. It is known for its focus on real-world situations and extremely efficient and brutal counter-attacks. Krav Maga consists of a wide combination of techniques sourced from some of the following martial arts:
Aikido
Boxing
Muay Thai
Judo
Jiu-Jitsu
Wrestling
Situational Self-Defense
Being in the wrong place at the wrong time can happen to anyone. What happens if someone has a gun, knife or other weapon and decides to use it? These are the situations where Krav Maga training can be extremely useful. With authentic real-life simulations in our training, we always focus on the self-defense aspect first and foremost, learning how to disarm your opponent if need be, and lastly following through with a counter-attack as necessary to keep a bad situation from turning worse.
Classes & Personal Training
We offer individual one-on-one sessions with a personal trainer or small class environments for Krav Maga. Our classes are perfect for anyone looking for a new way to get fit or learn a new martial art. Personal training sessions with our instructors can help anyone seeking to master their craft further and earn a new belt. No matter if you're a beginner or seasoned practitioner, training Krav Maga at Sparta Academy will increase your skills and fitness level.
Real World Skills At Sparta Academy
Are you prepared to push yourself to new limits? At Sparta Academy in Los Angeles, we will push ourselves right along with you in our Krav Maga classes and training. Our trainers will do everything in their power to help you achieve your fitness goals. Get your membership today, or sign up for a single session to see why we're one of the best Krav Maga gyms in Southern California.