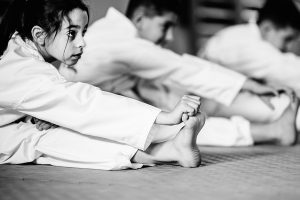 If you're looking for kids martial arts and fitness classes in West Los Angeles that are engaging and fun, come to Sparta Academy. The Sparta Academy youth program focuses on an array of functional martial arts skills within games specifically designed for two different age groups; ages 5-7 and 8-13.
Kids Martial Arts & Fitness
Kickboxing and Jiu-Jitsu taught the correct way, can help children build self-confidence, learn self-defense skills, adapt their social behavior, help with school sports, and begin the habit of being physically active for the rest of their lives. In martial arts training, no one sits on the bench! Unlike team sports where your child may not always have the opportunity to shine, in these classes each individual is given the platform to achieve their goals no matter their strength, speed, size or gender. Anyone can do it!
SPECIAL NEEDS: We can always accommodate kids with special needs as our instructors are trained to work with autistic children and are fluent in American Sign Language.
Youth 1- Fitness & Martial Arts (Ages 5-7)
This class offers a safe, friendly environment for children ages 5-7 to be introduced to basic martial arts skills through a variety of techniques that challenge, entertain, and educate. At this young age, our goal is to help children gain strength, coordination, and balance on an introductory level. A few of the approaches we use in class would include:
Not only do these activities carry out plyometric, isometric, and aerobic workouts, but your child will have fun doing them! In our martial arts class, students begin to learn self-control and discipline. We also provide activities that will build their confidence and social skills.
Youth 2- Fitness, Martial Arts & Self Defense (Ages 8-13)
As children grow and have more control, they can grasp larger concepts and take on greater challenges with their minds and bodies. Kickboxing and Jiu-Jitsu paired together will shape their fundamental skills to build confidence, increase their strength and flexibility, and teach the discipline that will help shape them into young adults.  Some of the Youth ll class activities would include:
Building on the fundamentals
Learning new skills
Refining techniques
Learning through the use of games and drills
In our children's self-defense class, the basics of Krav Maga, Self Defense, Brazilian Jiu Jitsu, and Muay Thai will be taught in a safe, fun environment to help them hone their skills at all levels.
Youth Fitness Class Prices & Schedule
Classes will be Monday and Wednesday evenings as well as Saturday mornings. Some of these classes take place at the same time as adult Cross-training courses if parents also want to get in a workout. Check out our schedule for more information. We offer different options for youth packages starting at $159.00 per month for unlimited classes (1 year).
Kids Fitness Classes In West Los Angeles
For kids martial arts & fitness classes in West Los Angeles, contact Sparta Academy. We appreciate your dedication to a healthy lifestyle in which you lead your children by example. Our elite team of fitness instructors are excited and dedicated to helping the youth to learn and grow in an exciting and fun environment. Call or visit us today to enroll your child.