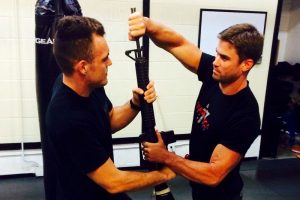 At Sparta Academy, our experienced staff is dedicated to teaching our clients the proper techniques of hand-to-hand combat in West Los Angeles. Martial arts can incorporate hand-to-hand combat training, which is typically taught as the last defense in close combat related to military and warfare tactics.
Hand-To-Hand Combat Training In West LA
Hand-to-hand combat is one of the most ancient forms of fighting and combines situational awareness with different aspects of combat training. Gladiators were among some of the first participants that fought using only their bodies. These ancient techniques included moves such as:
Elbow strikes
Up knees
Ax stomps
Throat punches
Hand-To-Hand Fighting Is A Survival Skill

Like any martial art, hand-to-hand combat requires an amazing amount of self-control, as certain moves could potentially be deadly and should not be used unless in a severe crisis situation. It's important to be able to practice sparring and hand-to-hand combat safely without severely injuring your partner. Hand-to-hand combat is meant to be used as a last resort in self-defense to incapacitate malicious assailants, especially ones wielding weapons, makeshift or otherwise.
Learn To Master Your Body As Your Only Weapon
Hand-to-hand combat is a great way to feel confident without feeling the need for menacing weapons in public places. When you've been trained to fight using only the strength and force of your own body, you realize guns and knives aren't necessary for protecting yourself and your loved ones from criminals and those who've initiated violent, harmful activities that would require self-defense techniques.
Call Us Or Walk-In Today For A Free Tour
When you take a self-defense class with Sparta Academy in West Los Angeles, you can safely learn the techniques of hand-to-hand combat. We'll teach you what advantageous moves would work in the various postures and scenarios possible. In an attack situation, it's best to know how to safely apprehend the attacker as quickly as possible. Let the professional self-defense trainers at Sparta Academy show you how today.