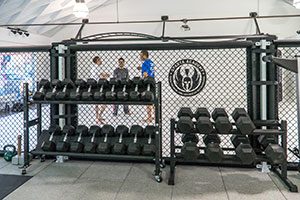 If you are looking for a personal trainer who specializes in functional training, look no further than Sparta Academy in West Los Angeles. Six pack abs, rapid muscle gains, and a competition ready physique aren't at the top of everyone's list. Some of us just want to be strong enough for whatever life throws at us. At Sparta Academy, we can help with a personalized functional training exercise routine designed to meet your specific fitness goals.
The Benefits Of Functional Training
A functional fitness routine is one that prepares your body for the everyday physical stresses of life. Your specific weekly routine may include picking up a bag of dog food at the store, helping a buddy move, meeting up with friends for a game of ball, or loading and unloading groceries. All of these seemingly simple tasks hold the risk of injury. By adopting a functional training routine or adding these exercises into your existing workout, you reduce the risk of injury and benefit in the following ways:
Improve Overall Strength
Improve Balance
Increase Coordination
Increase Endurance And Agility
Prevent Back Injury
Increase Flexibility
Improve Posture
Reduce Joint Pain
A Stronger Core For A More Care-Free Life
Functional exercises are often done standing and incorporating multiple joints. By strengthening your deep abdominals, hip abductors and rotators, and the scapula, you add a strong base to more specific, localized movements. This gives you more balance and coordination and over time improves your muscle memory. So, when you need your muscles to work quickly and move in a safe, effective way while performing real world tasks, your body is more than ready to step up to the plate. Some specific functional weight training exercises your trainer might suggest include:
Deadlifts
Kettlebell Swings
Power Clean
Squat Jump
Overhead Press
Squats
Chin Ups
Lunges
Push Ups
Targeted Movements For On The Job
Personalized core stabilization can make sitting at that desk for hours, stocking those shelves, or loading that truck much easier. Maybe you're just looking for a boost in overall everyday athletic performance. By working with a Sparta Academy trainer, you can develop a fitness routine that mimics movements you perform over and over each day. We will design individualized weight, resistance, and body weight exercises that strengthen your core, improve your posture, relieve bothersome aches, and optimize your range in a safe, strong, pain-free way.
A Functional Workout Designed For You
If you want to feel healthier and stronger in a low-impact, beginner friendly way that will benefit you both at the office and on the track, our Los Angeles personal trainers look forward to showing you how functional training can enrich your lifestyle. At Sparta Academy, we're ready to focus on your specific day to day fitness goals. Contact us now or stop on by for a tour and take that first step towards your best self.