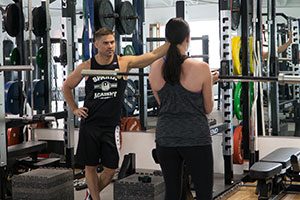 At Sparta Academy in Los Angeles, we know that finding the right personal trainer is challenging but worth it. From meshing personalities to finding the right fitness philosophy, there is a lot to consider when it comes to an ideal fitness training relationship.
With some of our handy tips, we know you can find the perfect personal trainer for you.
Do You Need A Personal Trainer?
You might be asking yourself if you even need a personal trainer. Research shows that people who enlist the help of a personal trainer not only reach their fitness and bodybuilding goals faster, they often exceed them.
The expertise and inspiration of a trainer can go a long way toward pushing you to the peak of fitness. Get that body beach ready or train for that marathon. Our talented crew can help.
What Are You Training For?
When looking to enlist the services of a gym personal trainer, you have to define your own goals. Think about what you want or what you're working for. Are you looking for a trainer who specializes in weight loss, someone to help you with bodybuilding or all around fitness advice? Let us know where your focus lies.
Then, your Sparta Academy trainer can teach you what to eat to how to move for optimal results. We even have a state-of-the-art training center with the latest equipment to support you in your progress.
Choosing Your Fitness Coach
Ask around. A good personal trainer should have a good reputation and a list of clients ready to sing their praises. Interview potential trainers to see if your fitness goals, ideals, and work out methods line up.
Look into what makes this trainer great.
Happy Former & Current Clients
Documented Results – Review, Before & Afters
A Great Training Facility
Legitimate Certifications
Affordability
Availability
Hire A Fitness Trainer In Los Angeles
Are you looking for a private personal trainer in Los Angeles? At Sparta Academy, we have some of the best around. Best of all, when you hire a personal trainer with us, you get all the advantages of our stellar facility and convenient classes too. Stop by today so we can help you find the right fit. Your number one fitness fan is waiting to meet you.