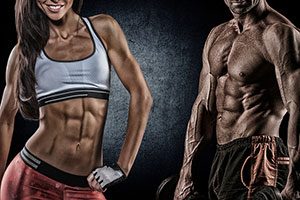 At Sparta Academy, we can help you meet your competition training goals at our West Los Angeles Gym. Working with our personal trainers will boost your body's muscles into a refined shape and the form desired for your fitness competition as well as the body shape of your dreams.
Intense Fitness Competition Training
Figure building is the leading approach to changing your entire body and is a serious resolution. To change your lifestyle takes a precision and awareness throughout the entire day. You must drink at least a gallon of water every day and cannot snack on the junk foods you may occasionally want to eat. Weightlifting, muscle sculpting, proper and scheduled diet, cardio, and some supplements will be important as you begin training for the competition of your choice. When you have a personal trainer, you get specialized training that is pertinent to your size and metabolism. Benefits of training at Sparta Academy include:
Targeted Muscle Building
Cardiovascular Training
Nutrition Guidance
Experienced Fitness Trainers
Find Out What Your Body Needs & How It Needs To Move
There are many reasons for entering a figure contest. It's not only a confidence booster it motivates a person to maintain the healthiest chiseled structure possible. At Sparta Academy, we can help assess your specific body type and design just what your body needs for a custom formula specific to you. When you work with a personal and experienced professional competition trainer, you can eliminate the downfalls experienced by many beginner bodybuilders and get the exact body form that will make you look and feel like an optimum human machine.
Competition Training West Los Angeles
For the best competition training in West Los Angeles, stop by Sparta Academy today. If you've wished for a rock solid, chiseled physique, then don't hesitate to learn from our experienced fitness trainers. We can't promise gold medals or ribbons, but we do know that every bodybuilder who tries is a winner for having competed in any fitness competition is a challenge. Once you've decided which type of fitness competition and body type that peaks your interest, our experienced trainers will be with you every step of the way.