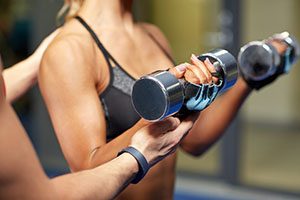 To sculpt or maintain a sexy red carpet figure, hire a celebrity personal trainer at Sparta Academy in West LA. We are an experienced celebrity personal trainer gym with multiple confidential clients within our current clientele.
As a public figure, your body is your calling card. You want to rock a healthy, balanced physique that makes you feel confident. When you hire a trainer that really knows cutting edge fitness, you're more likely to meet and exceed those fitness goals. That's where we come in.
Confidential Celebrity Training In West LA
We know it's vital to your career in front of an audience, on stage, and on film that you always look and feel your best. Thankfully, this isn't something you have to tackle on your own. Just some of the benefits of having a Sparta Academy celebrity fitness trainer include:
Customized, Precision Exercise Routines
Fun, Creative Workouts
Balanced Cardio & Strength Training
Common Mistakes & Injury Avoidance
Proper Form & Lifting Techniques
Relieves Stress & Anxiety
Better Results In Less Time
We know time is precious and your schedule is jammed. When you do the same exercise activities over and again, your body stops engaging itself and time's lost on what could have been a productive workout. Our top-notch facilities, equipment, and professional fitness trainers can keep your body at peak performance while never letting muscles get bored or ignored with the same repetitive gym routines.
Maintaining Your Image
We can help you find and adjust your diet and routine to target problem areas for weight loss, encourage muscle toning, or optimize bodybuilding. Having a celebrity fitness coach will keep you looking fantastic for now and the years to come. Let us help you take all the guesswork out of image maintenance.
Hire A Celebrity Personal Trainer
Your busy schedule may have you performing on stage, attending business meetings, red carpet events, photo-shoots, or TV interviews. Whatever your next big Hollywood event or VIP party is or, if you just need to shape up for an audition or hot new role, let the Los Angeles celebrity fitness trainers at Sparta Academy help. For a tighter, toned, and balanced physique contact us or stop by for a facility tour and consultation today.