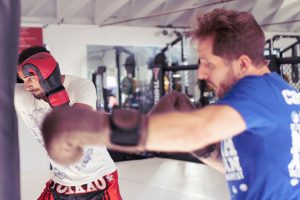 Whether your training for an event or desire effective self-defense techniques, let the highly skilled physical trainers assist you with boxing training and classes at Sparta Academy in Los Angeles. We understand that every individual has a different body image they wish to create, and our professional and experienced staff can help tailor your workout based on your lifestyle and personal goals.
Unique Boxing Workouts
Boxing uses your entire body, and our workouts incorporate strength while boosting your cardiorespiratory health. A secret among celebrities and supermodels, boxing for 30 minutes can burn up to 400 calories in the ring. If you're looking for a full-body workout and makeover, then come check out our upscale boxing gym facility with Olympian boxing trainer, Seb Zewdie.
Melt The Stress Away
Considered both an aerobic and anaerobic workout, boxing is one of the best high-intensity exercise training techniques known to burn the most calories in the least amount of time. Boxing is the greatest secret for those who lead stressful high productive lifestyles. If you've got stress, we can help you melt it away.
The Results You Deserve
We're here to help you feel and look your best. At Sparta Academy, we'll do everything in our power to get you the results you deserve if you are willing to give it your best. Unlike other routine workouts, boxing is never boring and will always challenge your body as you improve and learn new moves because you're constantly moving and working from your core. Better than sit-ups, boxing will help boost your metabolism and flatten your stomach for a healthy and sexy upper body.
Balance
Coordination
Reflexes
Agility
Speed
Metabolism
Personalized Lessons & Small Class Sizes
Call Sparta Academy in Los Angeles today to ask about our small sized classes and our individualized one-on-one boxing lessons. Our instructors will help you get the body and muscles you've always wanted.