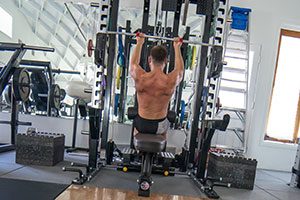 Sparta Academy in Los Angeles offers dynamic and effective personal training that can deliver the body transformation results you want. Our experienced trainers will meet with you to determine your fitness goals and create a plan that gets results. You don't have to struggle on your own to lose weight and chisel your perfect body – we're here to help.
Fitness Doesn't Have To Be A Struggle
While there are some standout success stories of people who achieved their fitness goals on their own, those cases are rare. Most body transformations require the efforts of a supportive team.
You can end the fitness struggle and reap the benefits of good health with a body coach from Sparta Academy. There are many positive aspects to losing weight and transforming your body, such as:
Increased Confidence
Muscle Gains
Flexibility
Heart Health
Longevity
Better Sleep
Less Stress
There's A Better Way
A weight loss coach offers a better way to transform your body and get rid of unwanted belly fat while sculpting your body into the one you want. Get ready to be amazed by your before and after photos and surprise everyone with your fantastic results.
If you want to go from fat to fit and experience your own weight loss transformation, a Sparta Academy personal trainer is the way to go. You will experience benefits that include:
One-On-One Support
Accountability
Exclusive Equipment & Classes
Personalized Plans
Nutrition Advice
The Accountability & Support You Need
Whether your goal is to lose a lot of weight or just to get more toned, you need accountability and support. Why struggle with finding the willpower to transform your body on your own, when you can have the encouragement and expertise of an experienced personal trainer on your side.
We can provide the accountability you need and correct errors in form and in nutrition that will help you reach your transformation goals even faster.
Positive Gym Environment
Unlike some gyms, we have a positive gym environment and are committed to your success. Sometimes when fat loss is the goal, it can be intimidating to come into a gym environment. We know that everyone starts their fitness journey in a different place. We offer no judgment and lots of support and expertise. Your success is our goal.
Hire A Personal Trainer In West LA
When you are ready to start your body transformation journey, a Sparta Academy personal trainer in Los Angeles is ready to help. Call us today to find out more about our classes, personal trainers, and gym perks. Your new body is waiting.