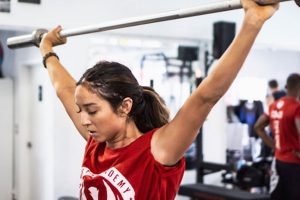 Weight training doesn't have to be a solo journey. When muscle gains are the goal, Sparta Academy in Los Angeles, California has a personal trainer that can see you through to the finish line. Bodybuilders shooting for excellence in competition, physical fitness beginners, and experienced fitness lovers just looking to beat your personal best, can all benefit from building more muscle. 
Today's Work – Tomorrow's Results
Building lean muscle and getting the physique of your dreams isn't going to be easy, but it doesn't have to be unattainable either. One of the most important things to remember is that you'll never know what it is that you're capable of achieving until you take that first step. 
Tips To Get You Started
Building more muscle is something you're going to have to work hard for and commit your time and resources to. Here are some muscle building tips to help you get started.
Add Weight – Challenge Yourself

Do Compounds – Work Multiple Muscles

Free Weights – Use Barbells, Dumbbells, etc.

Increase Frequency – Workouts More

Recover – Let Your Muscles Heal

Eat More – Increase Caloric Intake

Increase Protein – Feed Your Muscles

Be Consistent – Make Training A Priority

Get Enough Sleep – That's When Muscles Grow

Hire Experienced Trainer – Learn From the Best
Facilitating Your Fitness Goals
From free weights to cross-training to specialized classes, Sparta Academy offers a vast range of opportunities for you to customize your body sculpting journey. Their top of the line, full-service gym is fully loaded, and ready for you discover your brand new lean and ripped body. 
Your Helping Hand
Let's get real. You aren't going to become competition ready overnight with no effort. Our experienced personal trainers are available to help show you the way to your strongest, most fit body.
We aren't just going to give you a few tips on your form. We're here to help you transform your body and mind. We want to give you the greatest chance of reaching your goals, no matter how intense or difficult those might be. 
From scheduling and switching up your routine to feeding your body the correct fuel for the most gains, you'll be getting access to world-class training from world-class trainers. We know results and how to help you achieve yours.
Build Muscle With A West LA Personal Trainer
Ready to build more muscle? Contact us or stop by Sparta Academy of Los Angeles today. Meet your new trainer and take the first step in getting the strong, sexy, toned body that you've always dreamed of.